Industry on-line workshop: Small mining sites – Innovation in exploitation and processing
About the on-line industry workshop
Under the DIM ESEE 2020 topic "Small mining sites – Innovation in exploitation and processing", DIM project consortium is organizing the Industry workshop together with respected industry partners from the consortium countries in order to discuss content and relevance of the proposed lectures for the DIM ESEE school, scheduled for 12th-16th of October 2020 at the Inter University Centre in Dubrovnik, based on:
Results of the DIM ESEE 2020 questionnaire campaign conducted among industry partners from 8 consortium countries (results will be presented during the workshop)
Personal expertise and experience related to ongoing and future innovation potential in small and intermediate size deposits.
Questionnaire can be found on the link.
Content of the proposed lectures should answer to the questions in this file: WHY to PARTICIPATE
Expected results
Results of the on-line industry workshop will be used as valuable input for the finalization of the DIM ESEE school programme – to be held 12th-16th of October 2020 at Inter university centre in Dubrovnik, and will contribute to:
Tailoring of the DIM ESEE 2020 lectures
Recommendations for the improvement of the existing lectures / inclusion of the new lectures
Establishment of the open dialogue with industry stakeholders and identification of the ESEE RM sector needs in the topic
Increasing visibility of the DIM ESEE school
Increasing number of industry participation at the DIM ESEE school
Increasing visibility of the EIT Raw materials consortium
How can you participate?
Give your valuable input and participate in creation of school programme by filling in the questionnaire and join us at on-line industry workshop June 18th 2020
Prepare a case study for school attendees
Become a school lecturer
Apply as school attendee via https://dim-esee.eu
Apply as attendee of our on-line courses at
https://dim-esee.eu/online-course-2019/
https://dim-esee.eu/online-course-2018/ https://dim-esee.eu/online-course-2017/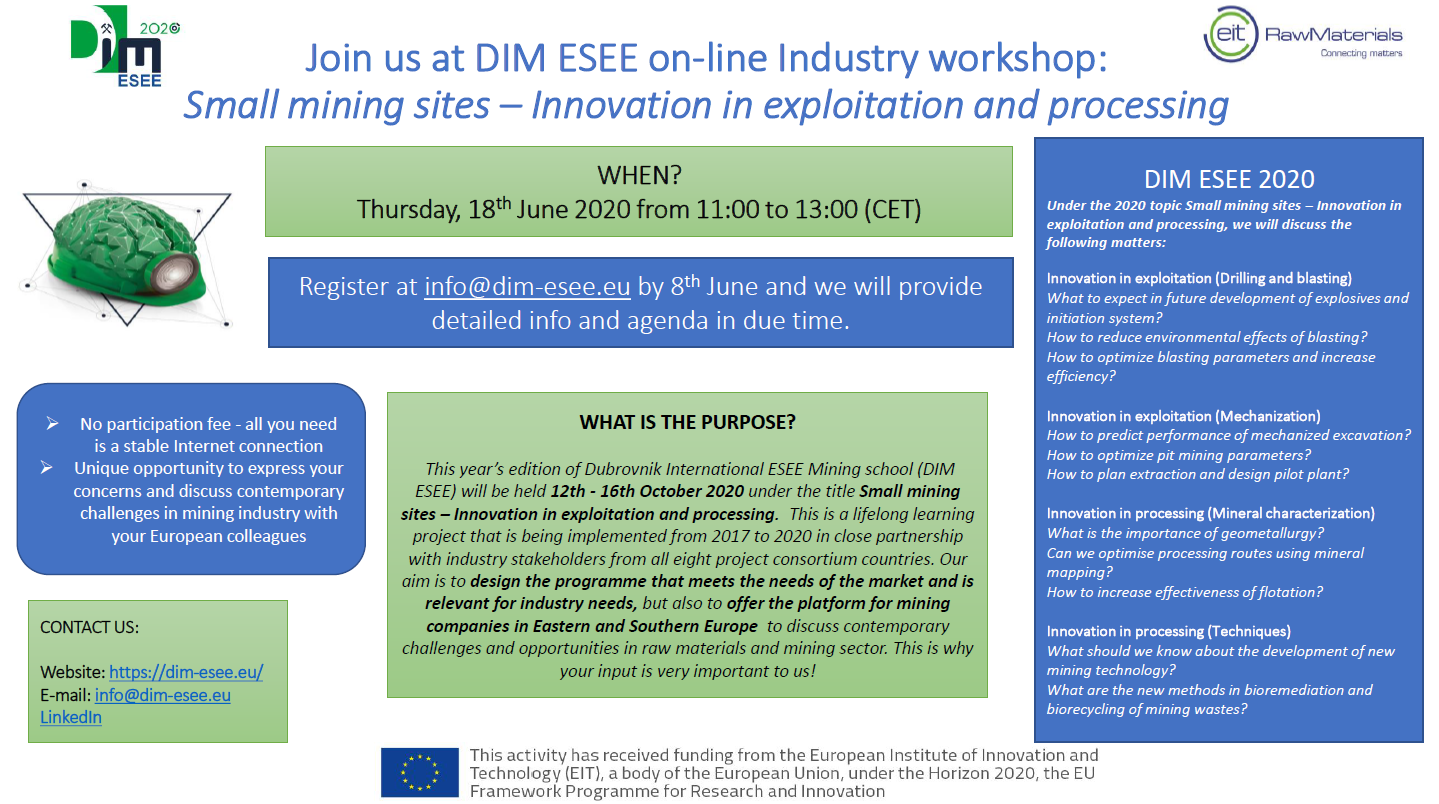 Read more about DIM ESEE as success story!Visit our web page: https://dim-esee.eu/