Women and Girls in STEM Forum
Bringing together policymakers, industry leaders, and students to advance the European agenda on gender equality in STEM education and careers.
#WGSF22 – Second Edition
On 26 October 2022, Girls Go Circular – in collaboration with the European Commission, Directorate-General for Education, Youth, Sport and Culture (DG EAC) – is organising the second edition of the Women and Girls in STEM Forum. The event will gather researchers, practitioners, and influential stakeholders in STEM and gender equality and connect them with the students participating in Girls Go Circular's innovative learning programme.
The second edition's theme is "Empowering Girls in Science and Technology". Girls and young women will have a pivotal role in the event and inspire their peers and the audience, engaging in discussions on eliminating gender bias from STEM with EU policymakers, scientists, and entrepreneurs and sharing success stories to inspire the future EU action on these themes. The Women and Girls in STEM Forum will also celebrate the participation of thousands of girls from 11 European countries in the Girls Go Circular project and offer them the opportunity to receive mentoring from leading professionals.
Closing the Gender Gap for a Sustainable Future
There is a clear link between promoting transversal – digital and entrepreneurial – skills, STEM disciplines, and the green and digital transitions in the European Union. Innovation, novel perspectives, and creative solutions in these fields are vital for a prosperous and sustainable future. Therefore, it is crucial that diverse actors, including women and under-represented groups, take part in ensuring a more inclusive and just transition. The Women and Girls in STEM Forum contributes to the discussion on achieving a carbon-neutral, circular economy and addressing the gender gap in education and training.
Event Details

The Women and Girls in STEM Forum will encompass two parallel streams: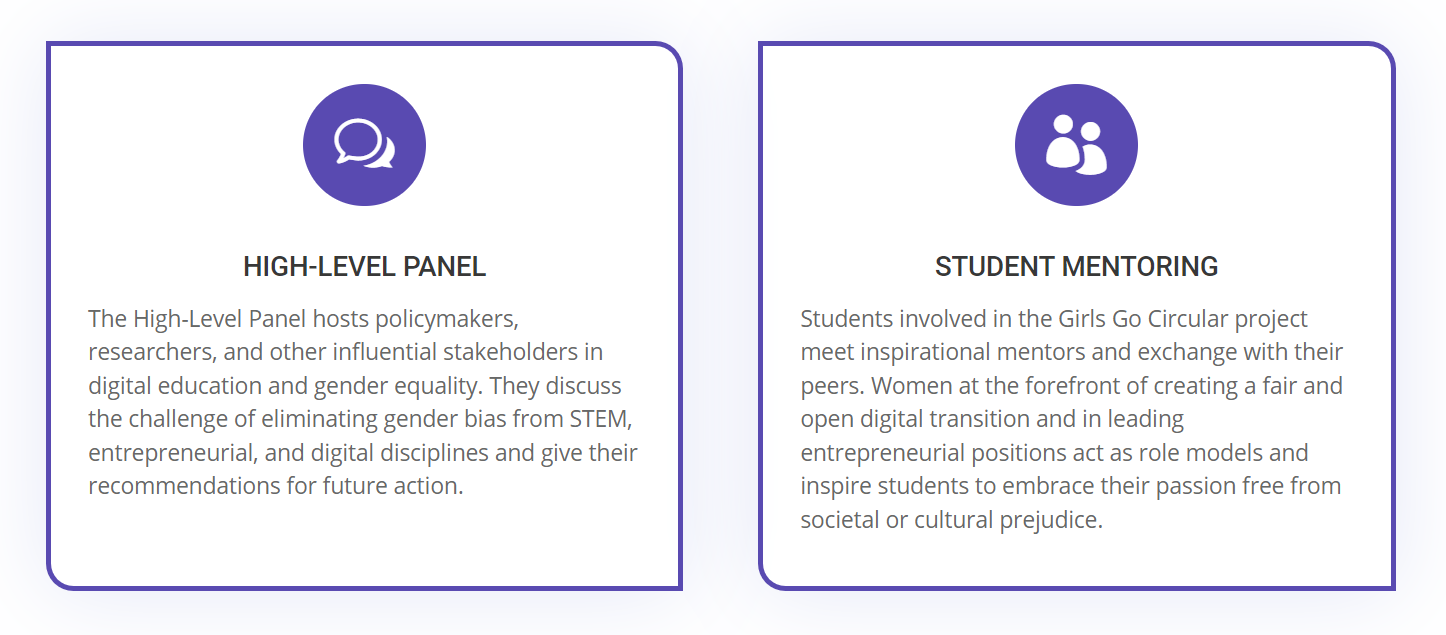 Highlights from the 1st Edition of #WGSF
The first edition of the Women and Girls in STEM Forum gathered over 400 policymakers, researchers, industry leaders, students, and teachers to advance the European discussions on gender equality in STEM and ICT. The speakers proposed ideas for further action and reported on several initiatives contributing to gender equality in key areas and empowering women to pursue STEM careers. Watch the key moments of the Women and Girls in STEM Forum 2021 in the Highlights Video.
The WGSF Policy Brief summarises the main findings of the event's first edition and highlights essential European policies and initiatives to reduce gender bias in STEM and ICT. Have a look at the policy brief and find inspiration to promote gender equality in STEM and ICT!
Register here for the Women and Girls in STEM Forum 2022!