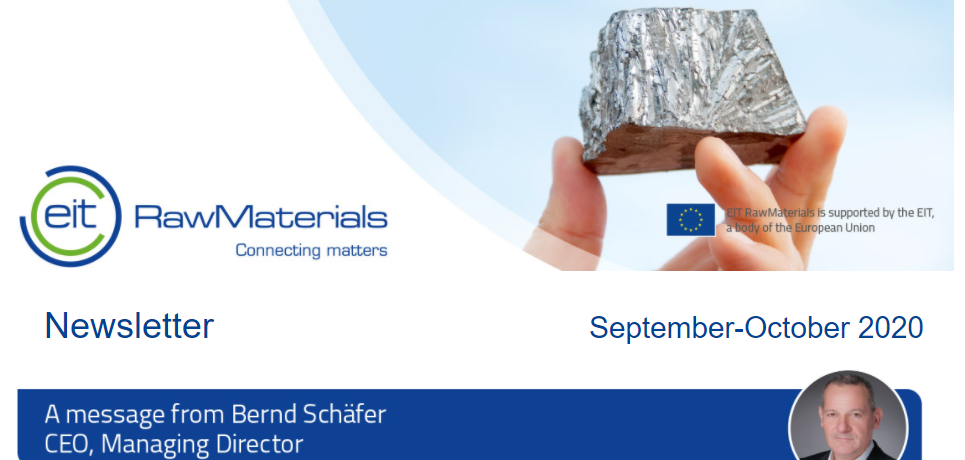 Newsletter september/október 2020
Dear members and friends of the EIT RawMaterials Innovation Community, 
Last month was significant for the raw materials sector in Europe. On 3 September the European Commission presented an Action Plan on 'Critical Raw Materials Resilience: charting a Path towards greater Security and Sustainability'.
The action plan highlights that raw, advanced and sustainable materials are critical for Europe's future. Our key industrial ecosystems such as construction, automotive, low-carbon energy-intensive industries, electronics and healthcare are highly dependent on secure access to raw materials. By 2030, these industrial ecosystems will have a combined added value of EUR 2,000 billion and provide employment for more than 30 million Europeans.
On 29 September, the European Commission, represented by Vice President Šefčovič and Commissioner Breton with the presence of other EU Institutions, including myself representing EIT RawMaterials, national Ministers, industry, unions and civil society organisations as well as key industry stakeholders launched the European Raw Materials Alliance (ERMA). It was announced that EIT RawMaterials would manage the newly established alliance.
The European Raw Materials Alliance's vision is to secure sustainable access to critical and strategic raw materials, advanced materials, and processing know-how for the EU industrial ecosystems.
By 2030, ERMA's activities will increase the production of raw and advanced materials and address Circular Economy by boosting the recovery and recycling of Critical Raw Materials. More specifically, the alliance has four interconnected goals; it will:
Bolster the creation of environmentally sustainable and socially equitable innovations and infrastructure
Implement a Circular Economy of complex products like electric vehicles, cleantech, and hydrogen equipment
Support Europe's raw materials industry capability, to extract, design, manufacture and recycle materials
Promote innovation, strategic investment, and industrial production across specific value chains
In the last few months, the European Raw Materials Alliance received strong endorsement and support from over 150 stakeholders from industry, associations, European governments across multiple industrial sectors and value chains. The alliance is open, inclusive and transparent, and
we invite all partners and interested stakeholders to register on the newly launched
erma.eu
 website through electronic declaration.
Europe is on its pathway towards a sustainable future, and we at EIT RawMaterials are committed to contributing to the achievement of the objectives, set by the Green Deal as raw materials are indispensable drivers for the transformation from the brown to the green economy.
There is a unique opportunity in Europe to use the potentials of the Circular Economy in order to address and close gaps of raw materials supply. Let's jointly make Europe more resilient and greener!
Best regards,
Bernd Schäfer